Pi-hole 2.7 Core / 1.3 Web Released With A Long-Awaited Feature!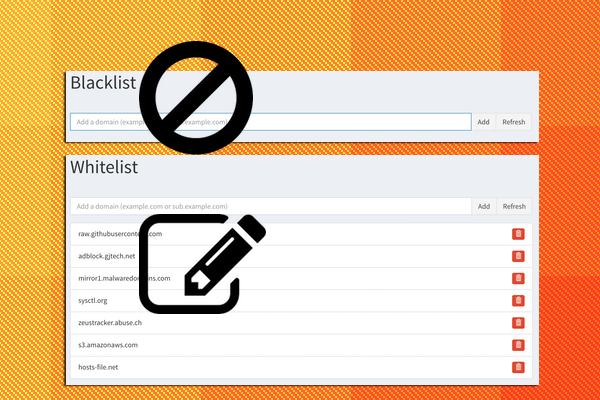 Thanks for everyone who has been donating (or supporting us through other means). We are happy to release the latest version of Pi-hole.
How To Update
Until we get Py-hole up and running, just use our weird, quirky method of running the installer again (an actual updater is coming at some point):
curl -L https://install.pi-hole.net | bash
The New Features
pihole Commands From The Web Interface
This release includes an oft-requested white/blacklist editor in the Web interface. Check out the details on the changelog (core / Web).
If you are curious how we did this, we are using a sudoers file that grants the Web server user access to the pihole commands. In order for this to work, sudo needs to be installed so it is now part of the default install.
https://youtu.be/J6_3RH4DK1A
Update Notification
Pi-hole will now let you know if there is an update available (a feature request). Clicking the link takes you to our release page so you can see what is included with the update.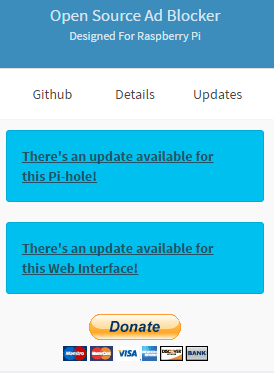 Bug and Security Fixes
We also fixed some security issues, which are describe more in detail in the changelogs (Core / Web).
Py-hole
We are also hard at work on Py-hole–the Python revamp of the code. Functionally, you probably won't notice a difference once it's ready, but we will be able to fix bugs and add new feature a lot faster. During this revamp, we are also looking at moving to Unbound/Nginx. Unbound would allow for wildcard usage. It's still a ways out, but once we get there development can really fly!
The pihole Command
Finally, if it's been a while since you have updated Pi-hole, you'll want to take a look at the new pihole command, which is used for controlling everything about your advertising black hole.
Feature Requests And Support From The Dev Team
We listen to all of your feature requests (hence this release).
We do our best for QA, but if we missed something in this release, please let us know right away! We are always around somewhere: /r/pihole, Twitter, YouTube, Pi-hole forums, email, Github, and Gitter.