The Pi-hole 2018 Retrospective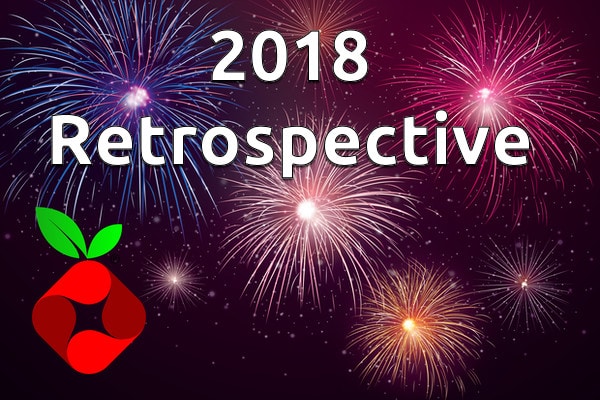 2018 went by fast for the Pi-hole team. We though it would be fun to share some interesting facts from this year.
We had

four official releases of Pi-hole

, moving from v.3.2.1 to v4.1.2

We had

99.9668%

uptime for internal and external services

We had

over 22k posts

on our

user forums

the majority of these posts were help requests from end users, most of which were resolved
Discourse is our official support forum and we do our best to help users out. Fortunately, we have a knowledgeable and helpful community that helps.

We had

over 1 million unique visitors

to

our blog

and we published

32 blog posts

We have

155 channels

and

over 330,000 individual posts on our internal chat app, Mattermost

Mattermost is our internal communications platform where all the developers and some power users hang out
Our team is 100% remote, so having a real-time chat platform is essential to keeping things running
Not an hour goes by where we do not use this application
It ingests all of our email, Github events, posts to Reddit/Twitter/Discourse and more
Each channel we have is for a different subject matter

We blocked a bunch of spam

basically anyone who runs a server is subject to spam, but we had to up our game a bit after spammers were increasing their attacks on us

We earned

$550 in referral credits for Digital Ocean

, resulting in reduced infrastructure cost

We earned

$190 in referral credits for StickerMule

, which were used to purchase stickers and distribute them to fans of our project

We launched our

Patreon page

in June 2018 starting at $384/month and closing the year with over

$1,300/month

We

started our fundraiser in May of 2018

, and in seven month's time, donors gave us

over $31,000
We sold all 300 Limited Edition Pi-hole FTLDNS coins
Major expenses in 2018:

Infrastructure (servers, domains, subscriptions services, hosting fees, etc): ~$5,735
Legal (contractor agreements, legal paperwork for running a business, etc): ~$5,115
Taxes: ~$3,475
Hardware for developers: ~$3,150
Contract labor: ~$1,670
Stickers: ~$935
Education and training: ~$300
Office supplies: $190
As you can see, a project our size is quite an undertaking, especially considering there are eight of us that regularly work on it in just our free time. We appreciate your understanding of our limited resources as we work to scale the project to meet demand. We did hear you when you stated that you wanted Pi-hole to remain free and we're committed to doing that. It does, however, pose challenges as we continue to grow.
And in addition to actually writing code to develop Pi-hole more, there are a lot of other things that happen to keep the project running. We're going to be writing blog posts about our developers as well as the servers and services that we use. We hope it will bring some more personality to the project and give people an insight into how much work actually goes into running an open source project.
Thank you to everyone who continues to support us! Here's looking forward to another great year.